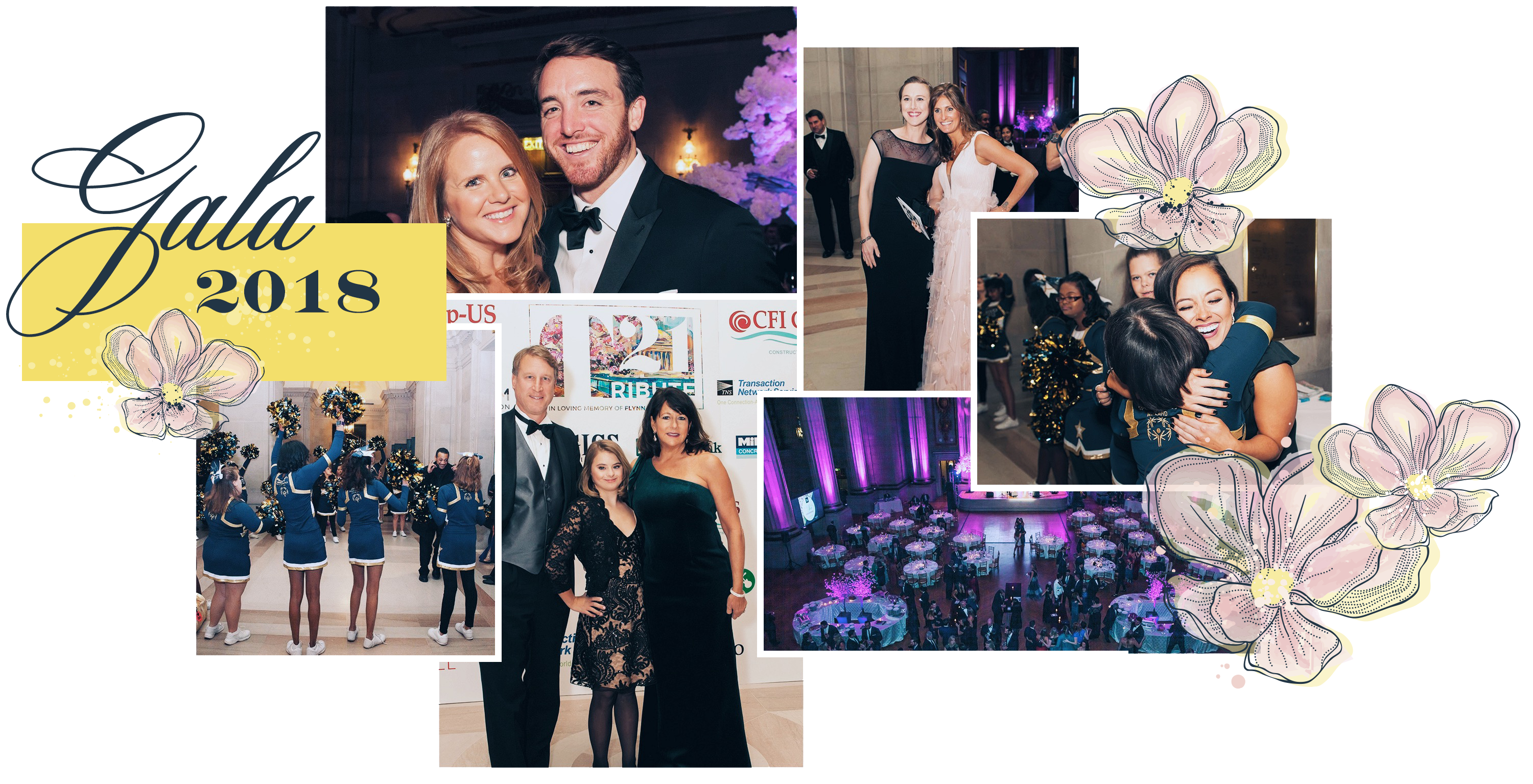 T21 Gala Celebrates the "Spirit of Flynn" to Support Down Syndrome
More than 600 guests gathered to celebrate the life of Flynn Thomas Fry at The Mellon Auditorium.  In his short life, Flynn touched the lives of many and he continues to inspire us to respect, appreciate and love people with differing abilities.  Serenely illuminated pink cherry blossom trees channeled DC artist Maggie O'Neill's signature painting,"Flynn's Jefferson Memorial", providing a uniquely DC backdrop for a night of dancing and fun as attendees raised money to support programs for individuals with Down syndrome.
This year's Advocate Address was delivered by Morgan Elizabeth Howard. Morgan regaled the crowd with stories of her experiences as a student at George Mason University and as an intern on Capital Hill where she plans to work after graduating. The impossible task of following Morgan's inspiring keynote fell to Emcee Doug Kammerer, NBC Washington's Chief Meterologist, who fired up the crowd to bid in the Live Auction.
Guests dined throughout the night on an assortment of delicious dishes and were particularly enthusiastic about a late night burger delivery from Shake Shack. Party goers rocked the dance floor with live music from bands "Long Lost Cousins", featuring Flynn's brother Keys Fry on bass, and crowd pleaser "Bryen O'Boyle" and his band.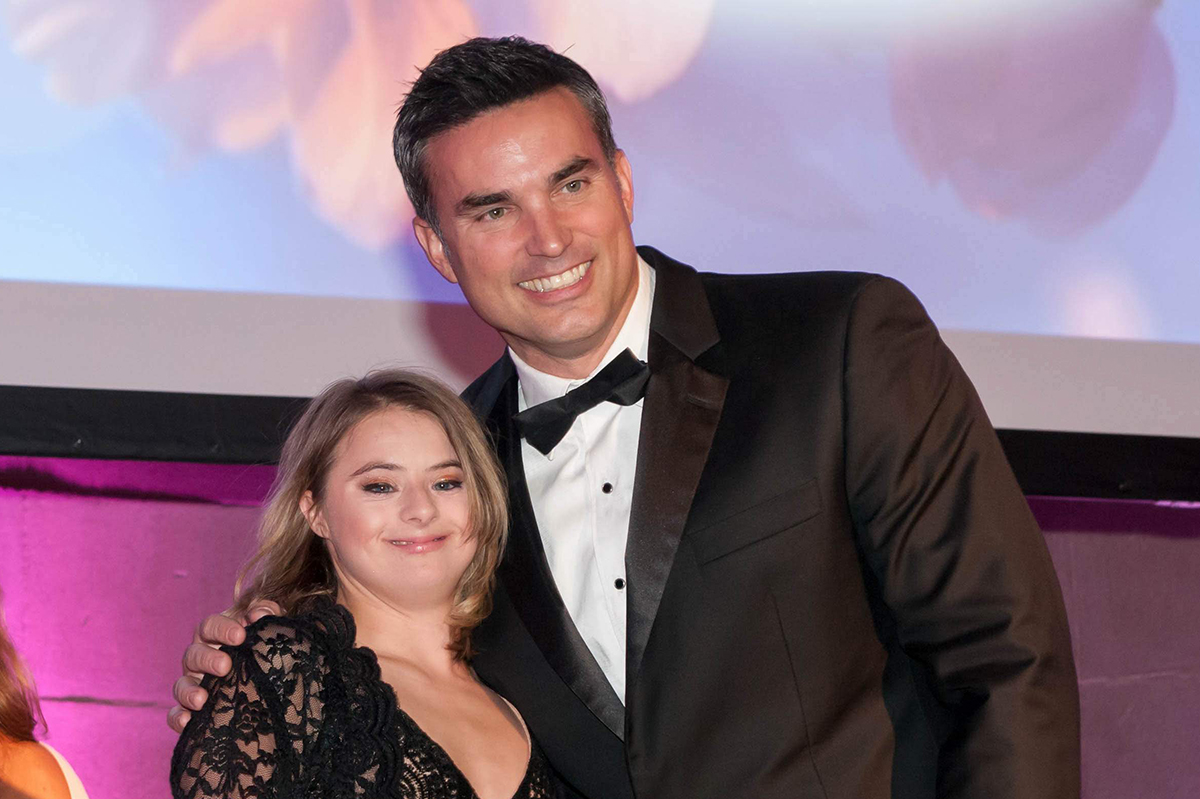 Self Advocate, Morgan Elizabeth Howard and Emcee, Doug Kammerer, NBC Washington's Chief Meterologist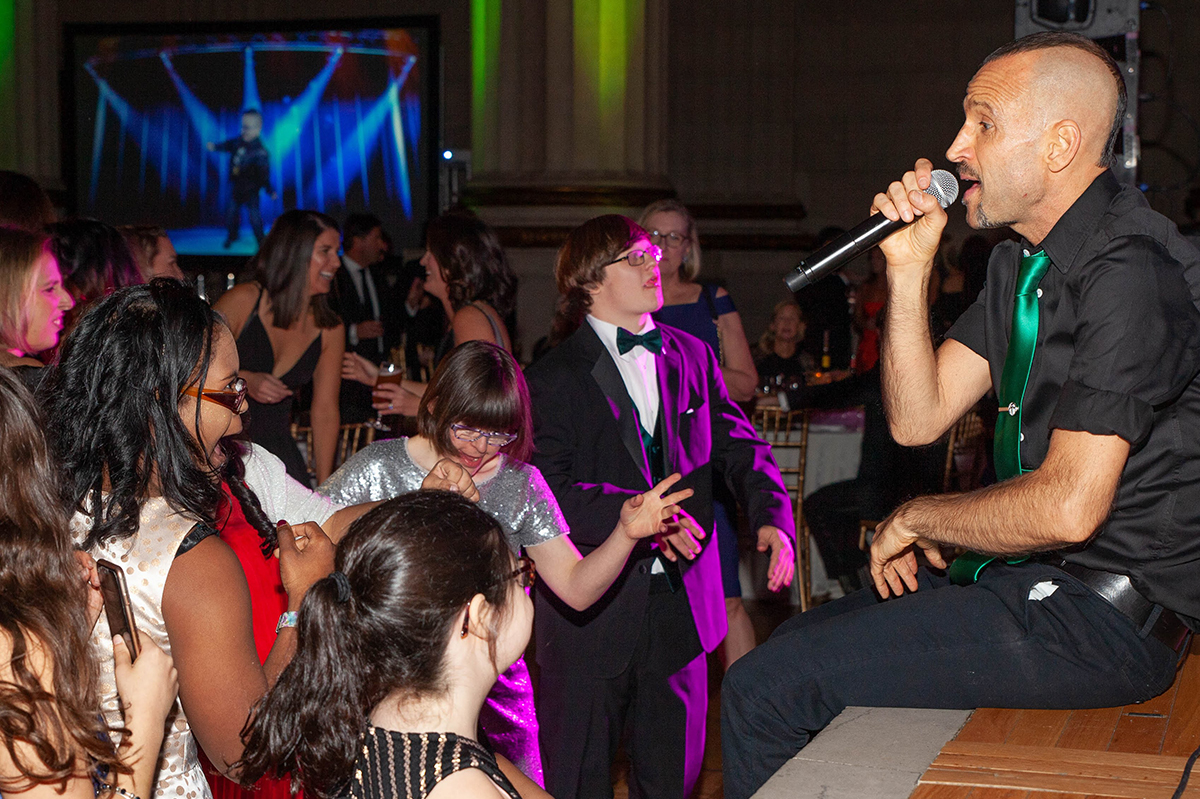 Guests danced the night away to the rockin' tunes of Bryen O'Boyle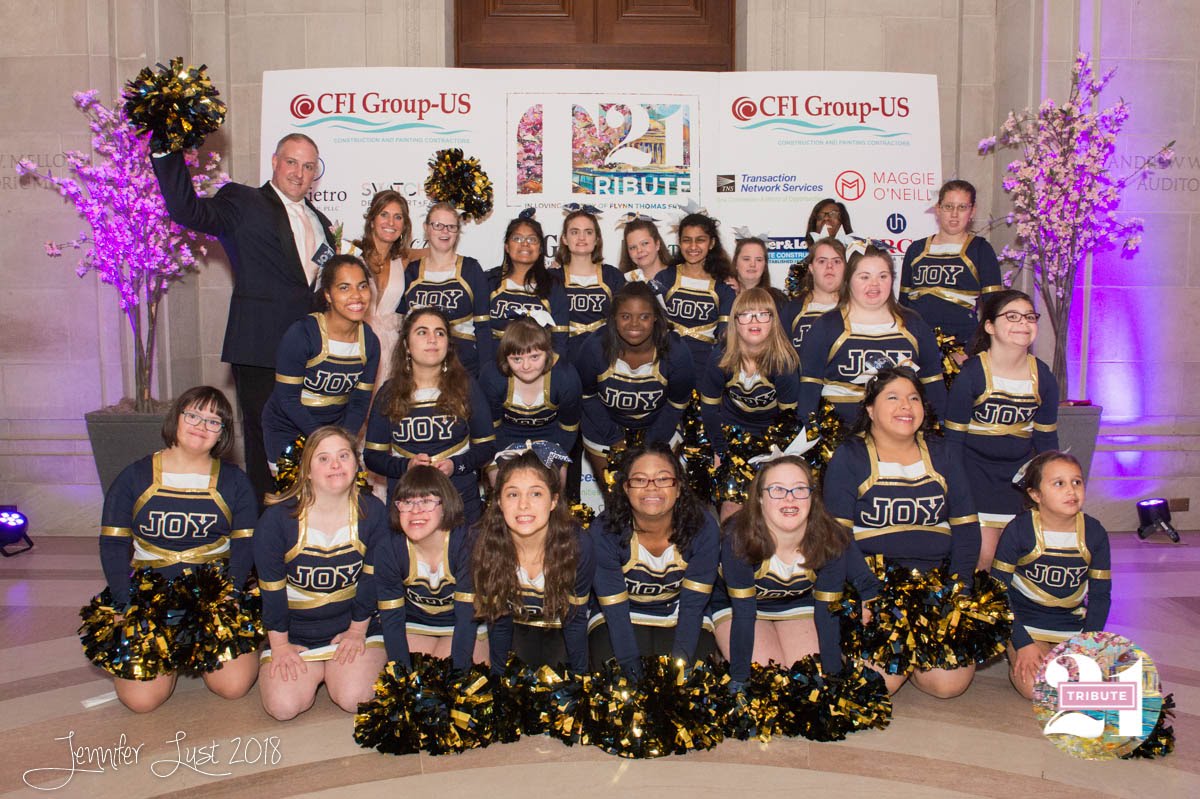 Brendan and Erin Fry with the Joy Cheerleading Team
The Tribute 21 Host Committees wish to extend their deep gratitude to all of our family, friends, and supporters of the Tribute 21 Annual Gala benefiting The Tribute 21 Fund.
We want you to know what we know … the gift of a baby is oh so amazing, but the gift of a child with Down syndrome takes your heart to places you never knew existed! Thank you for helping keep Flynn's spirit of faith, hope and love alive. We have faith that we will see Flynn again. We have hope that, with your help, we can change people's perceptions and better the lives of individuals with Down syndrome. And, we have an endless amount of love to persevere! Your generous backing of this event is an inspiration and we thank you for being a part of it!
Event production courtesy of GIGS Event Production
Peter Belford
Nellie and Seth Benhard
Erika Boone
Kara and Neil Borg
Kristen and Jeff Brinsfield
Erin and Alex Bryer
Bridget and Pat Conley
Debbie and Ian Copeland
Florence and Joseph DiPietro
Nimi and Justin DuFour
Emily and Mark Dunigan
Erin and Brendan Fry
Susan and Enos Fry
Laura Gaiser
Alison and Brian Garback
Christy and Dave Giulieri
Marguerite and Mike Grabenstein
Katy Hatcher and Scott Davis
Brooke and John Keenan
Beth and Joey Kemp
Dawn and Dan Kretz
Amy and Steve Langevin
Grace and Jon Lowe
Ellen and Paul McCabe
Gretchen and Justin Molloy
Katey and Jimmy Nalls, III
Kathy and Jimmy Nalls, Jr.
Michelle and Mike Noyes
Chais and Dan Ondeck
Dawn and Mike Piper
Christina and Tim Porter
Katie and Matt Plunket
Maggie O'Neill and Chris Roche
Beth Anne and Nick Smith
Julia and Eric Stogoski
Caitlin and Matthew Taylor
Heather and Rob Tinsley
Susan and Mark Tropea
Carrie and Ty Tydings
Bridget and Ryan Urgo
Wendi and Billy Walsh
Joni and David Yampolsky
Young, Broke, and Fabulous Committee
Cara Baldini
Ellie Beckler
Liza Beckler
Mary Beckler
Audrey Bryne
Joey Byrne
Margaret Crilley
Patrick Crilley
Maggie Ebner
Julia Gaiser
Loren Giulieri
Thomas Healy
Jessie and John Kemp
Maggie Lopez
Caroline McCormick
Kate McCormick
Dennis Nalls
Frankie Nalls
Kayla Nalls
Matthew Nalls
Mary Beth Nalls
Becca and Matt O'Connor
Kylie Smith
Christine Strang
Chelsea Taylor
Elizabeth Taylor
Jessica Taylor
Danny Williams
Haley Williams
Johnny Williams